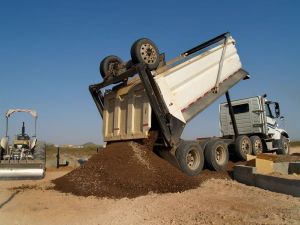 Comprehensive Dump Truck Insurance in Carlsbad, San Marcos, San Diego County, CA.
As the backbone of many construction projects, dump trucks are invaluable assets. But with their value comes inherent risks. This is where San Diego Trucking Insurance, a leading provider in Carlsbad, San Marcos, San Diego County, CA., steps in. We understand the unique challenges dump truck operators face daily. Offering specialized dump truck insurance, we ensure that your business keeps running, regardless of any unforeseen events. And, with our tailored insurance plans, you have the peace of mind you deserve. Need more details? Simply dial 760-603-1100.
If you require personalized advice, call us at 760-603-1100, or click here -

Why Dump Truck Insurance?
Operating a dump truck comes with its unique set of risks. Whether it's an accident, damage to property, or other unforeseen circumstances, having the right coverage is crucial. Our plans are not only tailored to your specific needs but are also affordable, ensuring you don't burn a hole in your pocket while getting the best protection.
Typical Claims Covered
Dump truck operators can face a myriad of scenarios daily, some of which might lead to significant financial burdens. Here are some typical claims that our dump truck insurance covers:
Liability claims resulting from accidents or damages caused by the truck
Medical expenses for injuries sustained in such incidents
Physical damage to the dump truck, whether from accidents, vandalism, or other events
Costs related to theft or loss of the dump truck
Environmental cleanup after an accident, especially if the truck was carrying hazardous material
Each of these scenarios can lead to significant expenses. With our comprehensive dump truck insurance, you can avoid the brunt of these costs. Reach out at 760-603-1100 to know more.
Features of Our Insurance Plans

Liability Coverage
Covers legal fees & damages in case of lawsuits.

Medical Coverage
Takes care of medical expenses arising from injuries.

Comprehensive Coverage
Protects against theft, vandalism, and other non-collision damages.
Speak with our Insurance Professionals
Our team at San Diego Trucking Insurance is always ready to guide you. Whether you need to discuss specific coverage options, want to understand policy details, or just need a quick quote, we're here to help. Just dial 760-603-1100, and one of our experts will assist you.
Taking the first step towards a secured future for your dump truck operations in Carlsbad, San Marcos, San Diego County, CA. is easy. Remember, it's not just about protecting your vehicle; it's about safeguarding your livelihood. So, don't wait! Let San Diego Trucking Insurance guide you to the ideal dump truck insurance plan today.
And if you're on the go or prefer an online approach, simply fill out our online quote request form. Here's to a secure and prosperous future in Carlsbad, San Marcos, San Diego County, CA..